All You Need To Know About Wig Types
Image: Remy human hair wig by Carol Hair Extensions
Choosing a wig for the first time can seem confusing, as there are so many types and styles to choose from.
The terminology used to describe the various wig types, how they are made, and the different price points just add to the confusion. So, lets first look at the three main types of wigs and why they may look and feel different.
Wefted
Wefted wigs are machine made, Some wefted wigs are made with a monofilament parting, this means the parting area has the synthetic fibres knotted into a fine semi-transparent net in order to create a more natural parting. Full weft wigs are mainly constructed with synthetic fibres.
Monofilament
Monofilament wigs are one of the most popular choices due to the comfort of the base and the natural appearance of the scalp area. This type of wig has hairs, or synthetic fibres individually knotted into a sheer mesh cap. Monofilament wigs vary in price because some have hand tied partings and crowns. This creates a very natural appearance. Unlike a weft wig the hair on a monofilament wig can be parted in various ways. It is important to note that some wigs are made of a combination of weft and monofilament, which means the cost may vary.
Double monofilament
A double monofilament wig provides extra comfort and helps prevent scalp irritation for those who find the weft type uncomfortable. Double monofilament wigs simulate the natural hairs' appearance. The double layer cushions the scalp from the knots of the hair or synthetic fibre. They are the best choice for those with sensitive scalps.
Fully hand tied
A hand tied wig is the most comfortable to wear and recreates the appearance of natural hair growing from the scalp. This type of wig has individual hairs hand tied into a soft, stretch net resulting in a very soft but secure fit. High quality synthetic and real hair wigs are usually made this way.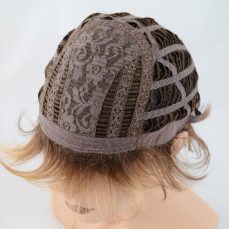 wefted base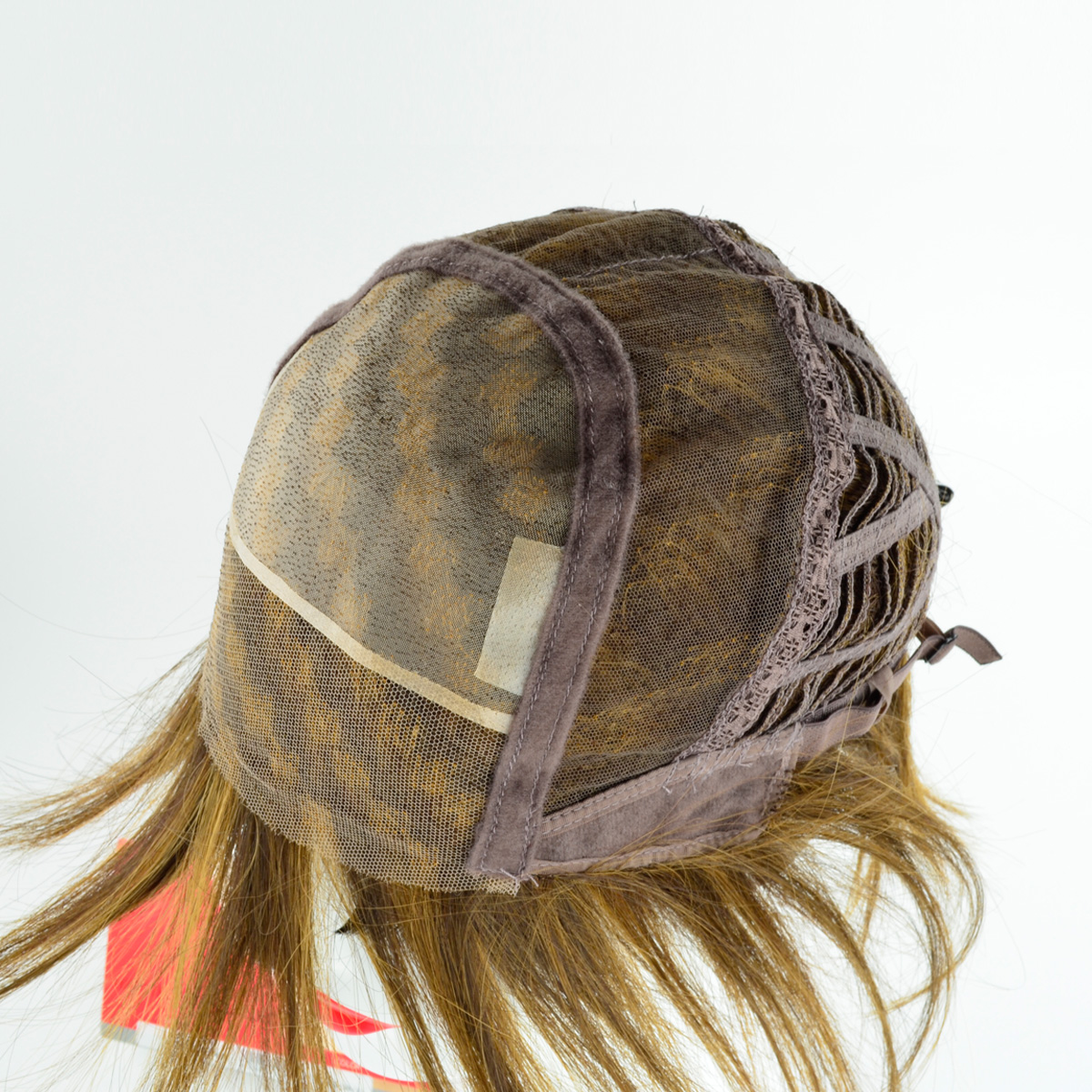 monofilament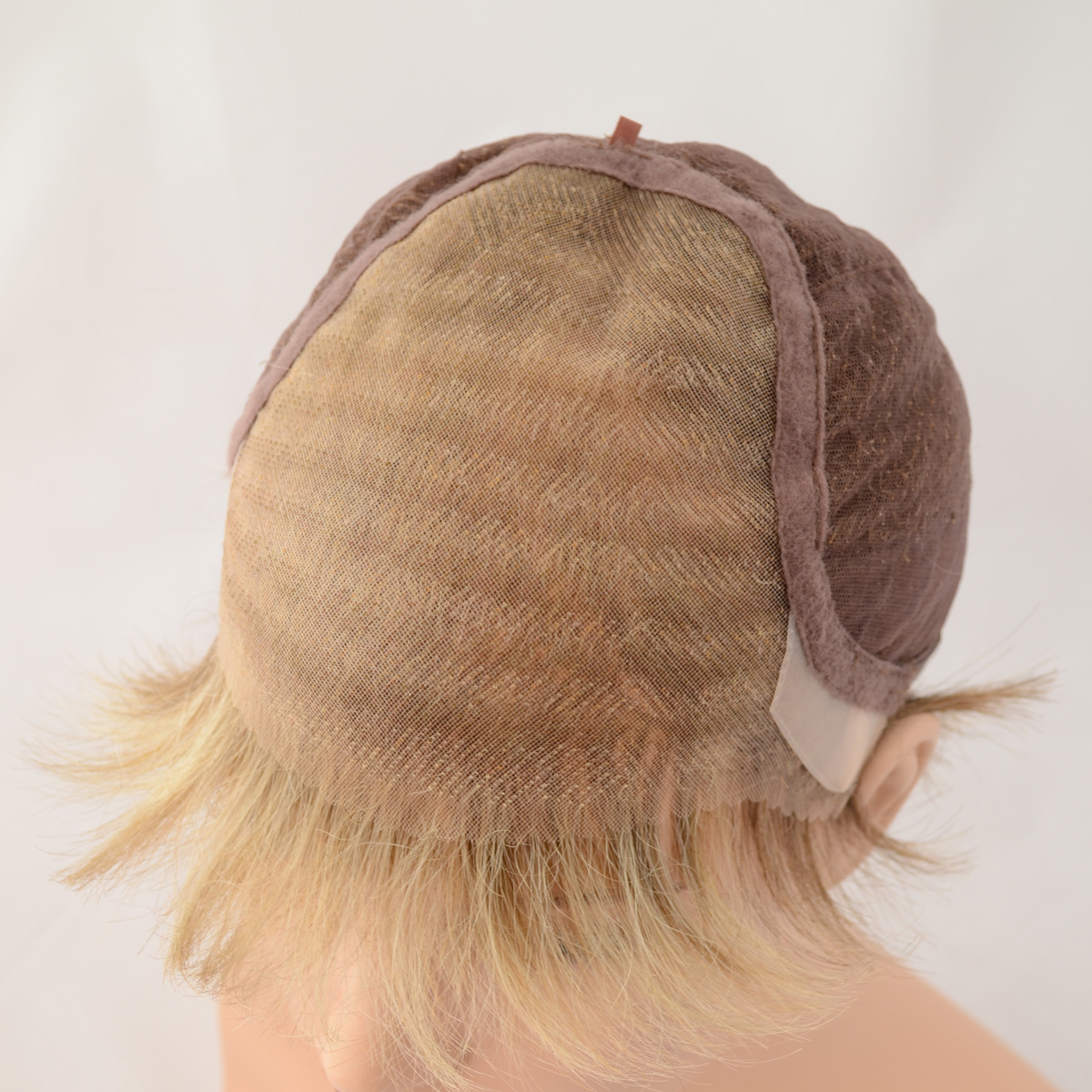 hand tied
Lace front
Each type of wig mentioned above may also have a lace front which gives the impression of a perfectly natural hairline. A full lace front is generally worn for a maximum of three weeks and from that point it is recommended to remove wash and refit.
Synthetic fibre or real hair ?
If you are not sure whether to choose synthetic or real hair your wig consultant will guide you to the most suitable option. Here are pros and cons of each option;
Advantages of synthetic fibre
Synthetic weft construction has the lowest price point
Easy to care for Simply wash in warm water and leave to dry naturally,
Synthetic wigs tends to drip dry back into its original style.
There are some heat resistant synthetic fibres available.
Disadvantages of synthetic fibre
On average a synthetic wig will need to be replaced in 6 months.
Some synthetic fibre wigs cannot be styled with direct heat such as straighteners / blow-dryers.
High heat will permanently damage the fibres of some types of synthetic hair.
Advantages of real hair
Human hair wigs can last much longer than synthetic fibre as long as it is maintained correctly. On average a human hair wig will need replacing after a year of constant use. The longevity depends on the aftercare being followed correctly. High temperature appliances and harsh products will shorten the life span of human hair.
High grade hair types are easy to maintain. Low grade human hair wigs can be purchased cheaply online but the quality makes them difficult to maintain and they rarely last more than 6 months.
Good quality unprocessed hair can be toned and highlighted. We strongly advise against attempting to colour a human hair wig at home.
Real hair wigs can be cut, blow dried, and styled with curling tongs or straightening irons.
Disadvantages of real hair wigs
The cost can vary. However, in balance over the course of a year the cost of 2 to 3 hand knotted synthetic wigs is equal to the cost of one good quality human hair wig.
Proper aftercare and styling must be carried out to maintain the condition.
Custom made human hair wigs can be made to set densities.
Cost
Here at the Carol Hair Extensions we select the very best ready to wear wigs for all hair types and suitable for all budgets. The collection includes;
Small discreet hairpieces – from £150
Full hair toppers highest quality real hair – from £170 (depends on hair length, colour and type)
Synthetic weft wigs – from £170
Custom hand knotted human hair wigs – from £1495
Lace front human hair wigs – from £350
Lace front Remy human hair – from £550
Custom made wigs can also be ordered, price by quotation. For more information get in touch with us via our contact page, alternatively send an Email to carolhairextensions@gmail.com
Consultation
Carol Hair Extensions will be happy to guide you through choosing the best type of wig. While we endeavour to carry a wide choice of colours and styles, if the style, colour or texture of the wig you require is not already in our collection we will certainly be able to provide the perfect hairpiece or wig to suit your needs.
For any enquiries or to book a consultation in a private setting call us on Tel: 07947141902